Wild Paddock home 🏡
Home • Schedule • Pinterest↗ • Plants↗
Consultation for creating a wildlife, ornamental and food forest garden design from a 1½ acre paddock. Provide a foundational road map, including detailed planting plans, species list and budget breakdown. Naturalistic planting with subtle symmetry & well-situated seating.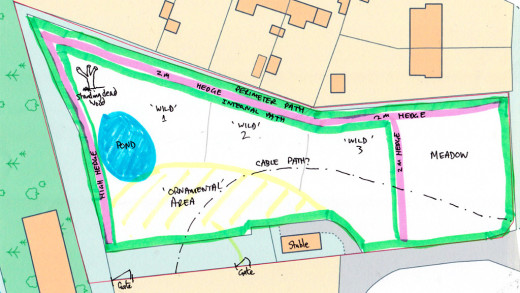 Site is east-facing with clay soil, woodland scrub to the north, neighbours to the east, road to the south, house to the west.
1. Key requirements
Support diversity of wildlife
Low maintenance & sustainable
Optimise aesthetics & screening
2. Features
Pond, clay-lined wildlife
Hedges, double thickness native hedge screen
Paths, perimeter & grass
Native, useful wild flowers & herbs
Ground cover, 80% grass
Edible trees & big shrubs
Sculpted dead hedges
Wild flower meadow
Diverse habitat for wildlife
Connection with kitchen garden
Maintain access to underground electric cable
Budget for maintenance!
I like gardening but I do like to do other things
2.1 Pond
Situated to northern, lowest end of site
Test clay on-site for suitability
1 metre deep, for maintenance
No more than 30° angle
At least 20cm thick
Find "puddler"!
Further reference: Clay lined pond and How to make a clay pond
2.2 Hedges
On east side, 2m high maximum
Double or even triple thickness
Spiny hedging for habitat
Native species where possible eg Cornus sanguinea, Alder Buckthorn etc See plant list
Plant for final size & width (reduce maintenance)
Create symmetrical plantings
2.3 Paths
Grass paths, mowed with wheeled brushcutter
Double mower width for main paths, single width for access
Perimeter grass path for access & maintenance
2.4 Native
2.5 Ground cover
Non-grass ground cover expensive (£600ish per 100m²)
So, keep 80% ground cover as grass
Divide into 3 areas, cut on 3 year rotation
20% non-grass, more ornamental nearer house
Option to convert later
2.6 Edible
All trees are specimen trees!
Edible &/or ornamental
Eg Cornelian Cherry, Scarlet Hawthorn, Chinese Dogwood, Sour Cherry, Quince, Tulip Tree, Sweet Chestnut etc
Shrubs also edible/ornamental
Eg Chokeberry, New Jersey Tea, Sea Buckthorn, Lemonade Bush, Saskatoon etc
Hedges & ground cover provide bulk of native plants
2.7 Dead hedges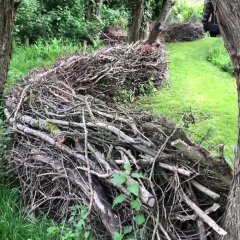 As feature in their own right (architectural)
Protection for establishing hedges
Temporary screening from neighbours
2.8 Meadow
Ensure species rich by being nutrient poor!
Establish specific mix & maintenance for conditions
Scrape upper layer of top soil
Form features from top soil
If animals, use electric fence
Size?
2.9 Habitat
Pond, different levels
Dead hedges
Different species in hedging
Thorny species for nesting (eg Blackthorn, Barberry)
Standing dead wood (architectural)
Nutrient poor meadow
Possibly use building rubble/subsoil as growing medium
Possibly retain stumps
2.10 Kitchen garden
Create flow from kitchen garden to wildlife garden
Reconfigure fencing?
2.11 Electric cable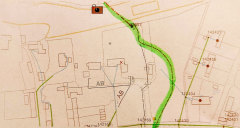 Ensure access to underground electric cable
Possibly use for line of path?
2.12 Maintenance
Ensure budget for maintenance
Mostly weeding in first 2 years
Mowing & pruning
Sketch road map ahead
Files
This page online: notes.grwd.uk/wildpaddock